Tudor Fashion To Colour
Discover the extravagant fashions of the Tudor period, from the richly embroidered gowns and silk breeches of Henry VIII's court to the flamboyant ruffs of Shakespearean London.
The intricate designs present a satisfying challenge to colouring enthusiasts of all ages, and there are snippets of information about the outfits on each page.
Giá sản phẩm trên Tiki đã bao gồm thuế theo luật hiện hành. Bên cạnh đó, tuỳ vào loại sản phẩm, hình thức và địa chỉ giao hàng mà có thể phát sinh thêm chi phí khác như phí vận chuyển, phụ phí hàng cồng kềnh, thuế nhập khẩu (đối với đơn hàng giao từ nước ngoài có giá trị trên 1 triệu đồng)…..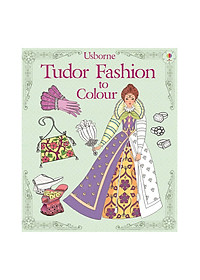 Usborne Tudor Fashion to Colour