Dot-To-Dot In Space

Great fun for young children, this colourful activity book has lively dot-to-dot puzzles accompanied by easy-to-follow adventures.
Lots of fun and interesting space-related objects to draw by joining the numbered dots to make pictures that can later be
coloured Fun way to learn numbers Helps develop manual dexterity Lots of fun for children finding the hidden pictures.
Giá sản phẩm trên Tiki đã bao gồm thuế theo luật hiện hành. Bên cạnh đó, tuỳ vào loại sản phẩm, hình thức và địa chỉ giao hàng mà có thể phát sinh thêm chi phí khác như phí vận chuyển, phụ phí hàng cồng kềnh, thuế nhập khẩu (đối với đơn hàng giao từ nước ngoài có giá trị trên 1 triệu đồng)…..
Specification:
Usborne Dot-to-Dot In Space
| | |
| --- | --- |
| Công ty phát hành | Usborne Publishing |
| Nhà xuất bản | USBORNE PUBLISHING |
| ISBN-13 | 9780746057186 |
| Kích thước | 276 x 216 mm |
| Loại bìa | Paperback |
| Số trang | 24 |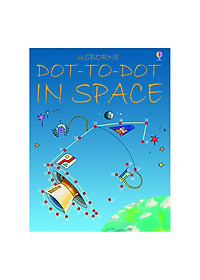 Usborne Dot-to-Dot In Space