Help Your Kids with Study Skills
Last updated on 05/23/2023 10:47
Help Your Kids With Study Skills
A unique step-by-step visual guide to help your kids study with Carol Vorderman.
Reduce the stress of studying and help your child get the most out of school with Help Your Kids with Study Skills. This unique guide is designed to enhance curriculum learning and build confidence in gathering knowledge, recalling from memory, creating study plans, and managing stress.
This colourfully illustrated book helps guide you and your child through revision techniques, online study, and handling anxiety, all the way to the big exam questions. Clear, accessible guidelines ensure that homework is no longer a struggle, helping to develop real world skills for lifelong learning.
Help Your Kids with Study Skills is the perfect guide for frustrated children and confused adults to unlock your child's academic achievement.
Giá sản phẩm trên Tiki đã bao gồm thuế theo luật hiện hành. Bên cạnh đó, tuỳ vào loại sản phẩm, hình thức và địa chỉ giao hàng mà có thể phát sinh thêm chi phí khác như phí vận chuyển, phụ phí hàng cồng kềnh, thuế nhập khẩu (đối với đơn hàng giao từ nước ngoài có giá trị trên 1 triệu đồng)…..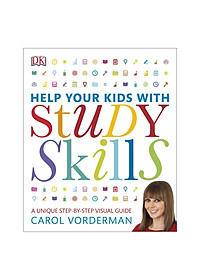 Help Your Kids with Study Skills