101 Things To Do Before You're Old And Boring

So much to do, so little time, so best to start early. Full of things to make, achieve, learn (and some things you shouldn't
learn) this is the perfect handbook for any child who wants to revel in being young and not-boring.
Can you…
Make an origami crane?
Lie convincingly?
Operate as a spy?
Parents may need these skills (not origami) to wrest their child's copy from them and indulge in all the fun they should
have had…
Giá sản phẩm trên Tiki đã bao gồm thuế theo luật hiện hành. Bên cạnh đó, tuỳ vào loại sản phẩm, hình thức và địa chỉ giao hàng mà có thể phát sinh thêm chi phí khác như phí vận chuyển, phụ phí hàng cồng kềnh, thuế nhập khẩu (đối với đơn hàng giao từ nước ngoài có giá trị trên 1 triệu đồng)…..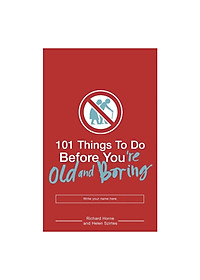 101 Things To Do Before You're Old And Boring